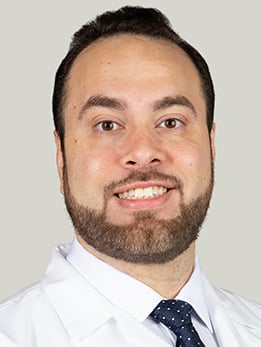 Obada Shamaa
Healthcare Ethics and Allocation
The Pulmonary Fibrosis and Interstitial Lung Disease Research Group at the University of Chicago is internationally renowned for its contributions to the development of novel pharmacotherapeutics and management strategies that improve the quality of life of our patients with interstitial lung disease (ILD).
As a leading center in the field over the past two decades, our work has led to trailblazing discoveries in the pharmacogenomics of pulmonary fibrosis and numerous advances in ILD immunopathobiology. Our research has defined the value of proteomics in prediction modeling, characterized the multi-organ effects of autoimmunity in pulmonary fibrosis, and highlighted the impact of environmental exposures on disease definition and progression. We identified the single-nucleotide polymorphism within the TOLLIP gene (rs3750920) as the first actionable pharmacogenomic variant in the field of pulmonary fibrosis and recently depicted the association of telomeres with response to immunosuppressive therapy in hypersensitivity pneumonitis. Our group also recently defined distinct ILD clusters based on clinical phenotypes at disease diagnosis and characterized the importance of lung lymph nodes visualized on chest CT images as prognostic indices of hospitalization and mortality across various ILD subtypes. Our application of cutting-edge imaging technologies and radiomics-focused data characterization algorithms has helped define the clinical utility of the usual interstitial pneumonia pattern and the prognostic value of CT features such as radiologic honeycombing.
With one of the largest prospective ILD databases in the nation, our center has partnered with others to facilitate a greater understanding of ILD epidemiology and provide greater insight into the demographic, socioeconomic, and environmental factors impacting the development of pulmonary fibrosis. Under the leadership of Dr. Mary Strek and in collaboration with local and international experts at numerous hospital centers, we have conducted multi-center clinical trials such as INBUILD, PANTHER-IPF, CLEAN-UP, and ACE-IPF. These efforts have resulted in the development of life-changing treatments and delineating pharmacotherapeutic value for patients with fibrotic lung disease. As a nationally recognized center with ILD expertise and an official Pulmonary Fibrosis Foundation Care Network site, we offer patients the opportunity to participate in drug trials for promising pulmonary fibrosis therapies and enrollment in several ongoing ILD registries.
Recent publication highlights [more]:
Myositis-specific Antibodies Identify A Distinct Interstitial Pneumonia with Autoimmune Features Phenotype
Computed Tomography Honeycombing Identifies a Progressive Fibrotic Phenotype with Increased Mortality across Diverse Interstitial Lung Diseases